Keep your tongue from evil

And your lips from speaking deceit.

Turn away from evil and do good;

Seek peace and pursue it.
These two verses are the only two physical actions commanded in the entire chapter of Psalm 34, and as such, create a sort of turning point in the Psalm.  The first part of the chapter is exhortation to seek the Lord, fear the Lord, cry out to the Lord, but the second part of the chapter is almost exclusively promises of the Lords protection, deliverance, and redemption.
The commands are simple, be honest and truthful, turn away from evil (or repent from it) and do good, and pursue peace.  These commands are simple instructions that demonstrate a life spent seeking and following the Lord.  It is impossible to seek the Lord and live a life of dishonesty, and evil.   When we seek God with all our heart, and wait on his salvation our lives will be transformed (vs. 5) and we will demonstrate our transformation in a life of repentance from evil and truthfulness and peace.
To download full size image, [Click] on the picture below, then [Right Click] on the picture and select "Save As."  To change your desktop wallpaper, [Right Click] in the image and select "set as desktop background."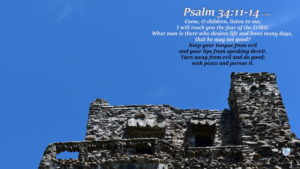 The Holy Bible, English Standard Version Copyright © 2001 by Crossway Bibles, a publishing ministry of Good News Publishers.
Music: http://www.bensound.com
Podcast: Play in new window | Download
Subscribe: Apple Podcasts | Android | RSS