When the righteous cry for help, the LORD hears

And delivers them out of their troubles.

The LORD is near to the brokenhearted

And save the crushed in spirit.
This passage is a wonderful promise that God hears us.  It is amazing, to me, that the God of the universe cares about us.  Think of it.  The God that hangs all of the billions of stars in the sky, and suspends the Earth from nothing.  The God that causes all things to be in existence, loves you enough to know how many hairs are on your head.  To know all of the events of your life, and to know when you are calling for Him.  The God of all of the universe hears you and responds.  He keeps his ear toward those who need him.  And he is near to comfort you and save you.
Thank You God for loving us enough to hear us, and to save us.
To download full size image, [Click] on the picture below, then [Right Click] on the picture and select "Save As."  To change your desktop wallpaper, [Right Click] in the image and select "set as desktop background."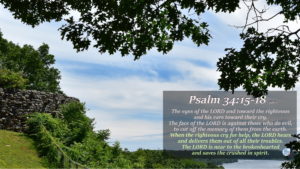 The Holy Bible, English Standard Version Copyright © 2001 by Crossway Bibles, a publishing ministry of Good News Publishers.
Music: http://www.bensound.com
Podcast: Play in new window | Download
Subscribe: Apple Podcasts | Android | RSS