Psalm 34: 19-20
Many are the afflictions of the righteous,

But the LORD delivers him out of them all.

He keeps all his bones;

Not one of them is broken.
This verse seems counter intuitive.  Many are the afflictions of the righteous?  Why is that?  We would hope that it says little are the afflictions of the righteous, but that is not so.  The Bible never tells Christians that their path will be easy, just that God will be with them.  In fact, many Christians experience a more difficult life because of their faith.  John 16:33 tells us that.
John 16:33
I have said these things to you, that in me you may have peace. In the world you will have tribulation. But take heart; I have overcome the world
Jesus is telling his disciples that they will have a difficult life, that the life of a follower of Christ will be difficult, but that he has overcome the world.  What a wonderful thought that Jesus will be with us in our suffering.
John 15:18 reminds us that Jesus was hated too,
"If the world hates you, know that it has hated me before it hated you.
Jesus was ridiculed, hated, and even murdered for who he is, how also should we be willing to suffer with him.
But the verse does not leave us there, suffering all by ourselves.  Jesus tells us that He will be with us to the ends of the earth, and Hebrews asks this question, if God is for us, who can be against us?
Hebrews 13:5b – 6
…because God has said, "Never will I leave you; never will I forsake you."  So we say with confidence, "The Lord is my helper; I will not be afraid. What can men do to me?"
To download full size image, [Click] on the picture below, then [Right Click] on the picture and select "Save As."  To change your desktop wallpaper, [Right Click] in the image and select "set as desktop background."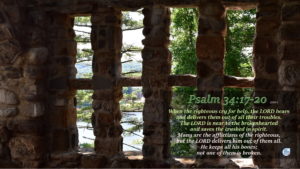 The Holy Bible, English Standard Version Copyright © 2001 by Crossway Bibles, a publishing ministry of Good News Publishers.
Music: http://www.bensound.com
Podcast: Play in new window | Download
Subscribe: Apple Podcasts | Android | RSS