The angel of the Lord encamps around those who fear him, and delivers them.

Oh, taste and see that the LORD is good!

Blessed is the man who takes refuge in him!
These two verses in this passage contain wonderful promises for those that put their hope and faith in God.  David, in the midst of trouble tells the reader to put their trust in God for deliverance, and promises, on God's behalf, that God will deliver them.  What is most amazing about this verse is that David writes this during a period of hardship and trouble in his life.  David is not discouraged, but reminds the reader (and possibly himself) of the hope that we have in God.
The first 8 verses of this Psalm are broken down into actions that we are to do and promises that God will keep.  Look at the actions that we are called to below:
Bless the LORD
Praise the LORD continually
Boast in the LORD
Be glad in the LORD
Magnify the LORD
Exalt the name of the LORD forever
Seek the LORD
Look on the LORD
Cry out to the LORD
Fear the LORD
Taste and see, the LORD is good.
Take refuge in the LORD
That is quite a comprehensive list, but look at all that they have in common.  Each of these actions are related to our relationship with God and our focus on him.  God does not call us to work for our salvation, he calls us to rest in Him and enjoy him – to be glad in Him, and focus our eyes on Him.  Our part of the relationship with the LORD is simply to trust and abide in him – not some complex and difficult list of actions, merely a heart that seeks after God and loves him.
When we seek after god, and bless, praise, boast, and be glad in him the LORD rewards us with the following:
The LORD answers our call
The LORD delivers us from our fears
The LORD transforms us
The LORD will never disappoint us (we will never be ashamed)
The LORD hears our cries
The LORD saves us from our troubles
The angel of the LORD encamps around us
The LORD delivers us from our troubles
The LORD is good
The LORD blesses us
The LORD is our refuge
Wow!  Think of it, the God of all the universe, who created the sun, moon and all the stars, promises to deliver you if you rest in Him.  He will never fail you, and will encamp around you to be our hope and our refuge.  What a wonderful promise from a wonderful God.
To download full size image, [Click] on the picture below, then [Right Click] on the picture and select "Save As."  To change your desktop wallpaper, [Right Click] in the image and select "set as desktop background."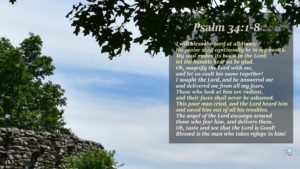 The Holy Bible, English Standard Version Copyright © 2001 by Crossway Bibles, a publishing ministry of Good News Publishers.
Music: http://www.bensound.com
Podcast: Play in new window | Download
Subscribe: Apple Podcasts | Android | RSS