Oh, fear the LORD, you his saints,

For those that fear him have no lack!

The young lions suffer want and hunger;

But those who seek the LORD lack no good thing.
These two verses tell the reader (or hearer) that the LORD is a God who provides for his saints.  God provides for those who seek and follow Him is the message of this passage.  It is a continuation of the previous passages that state that if we look on Him He will transform us and never disappoint us (vs. 5) God watches over the needs of his saints and provides for them.  Verse 9 tells us that those who fear the LORD will lack nothing.  This is a great promise because of the general nature of it.  God is promising that if I fear him I will never lack anything.  How can this be in a world that is missing so much?  The answer is in a correct understanding of the passage.  Often times we read Bible verses like these and take them to apply to our wants and our needs.  We think that God is telling us here that if we worship him, he will provide everything we want and need.  We think that God will guarantee us a easy and prosperous life.  This simply is not the case.  God is promising to be all that we need, that if we seek him he will be enough for us regardless of our material earthly needs.  This promise (and may others in Scripture) is not to imply that God will give us every earthly thing that we think we need, but that God himself will be enough for us if we truly seek him.
Think of it this way, God is the creator of all of the world, the universe, and everything that we know. Acts 17:8 tells us the in him we have our being – we are here breathing today because of him.  He created us and by his power we are sustained for this life.  He appoints the days of our lives, and loves us so much that he knows how many hairs are on our heads.  Imagine, for a minute, knowing this God – who does all of this.  Can you think of anything that you would still lack in the presence of the God that has and provides all things?  The question here is God promising to provide everything that I want, or is God promising to be all that we need?  It would seem the latter is the correct interpretation.
To download full size image, [Click] on the picture below, then [Right Click] on the picture and select "Save As."  To change your desktop wallpaper, [Right Click] in the image and select "set as desktop background."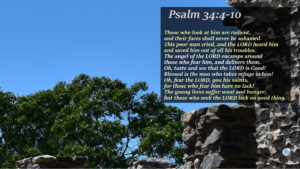 The Holy Bible, English Standard Version Copyright © 2001 by Crossway Bibles, a publishing ministry of Good News Publishers.
Music: http://www.bensound.com
Podcast: Play in new window | Download
Subscribe: Apple Podcasts | Android | RSS