The eyes of the LORD are towards the righteous

And his ears toward their cry.

The face of the LORD is against those who do evil,

To cut off the memory of them from the earth.
God doesn't have eyes and ears or a face that is like ours, but these verses offer us a compelling picture of God's distain for sin, and his blessings on those that follow him.  One of the big questions in these verses is the claim that the LORD cuts off the memory of those who do evil.  This promise certainly sounds nice, but we still learn about some of those that have done extreme evil, and they are still named in our history books.  What is this verse telling us, and is it possible that is is a gross overstatement of God's actions?
To correctly understand this, we need to first keep it in the context of the rest of the psalm.  This passage, as we have learned is showing us God's love and protection for those who love him, and God's distain for those that seek evil.  It promises ultimate protection and comfort for those that seek him, and ultimate ruin for those that don't.  Many of the verses in this psalm seem to be overstatements if we look at them simply from our perspective in our lives, but God's plan if far more reaching and His patience is far more than we can imagine.  The ultimate end that is in view in this passage is then the ultimate end of all of history.  The entire Bible is filled with God's promise to make all things new.  This promise is that He will repay evil and He will reward good.  That God himself paid the price for sin, and He is the only judge.  God is promising that ultimately, He will make all things new, and evil will be wiped away.  He is telling us that His face is towards those that seek Him, but he is against those that do evil.
Revelations 21:4 tells us of a day in the future when this will all come to pass.
 He will wipe away every tear from their eyes, and death shall be no more, neither shall there be mourning, nor crying, nor pain anymore, for the former things have passed away."
To download full size image, [Click] on the picture below, then [Right Click] on the picture and select "Save As."  To change your desktop wallpaper, [Right Click] in the image and select "set as desktop background."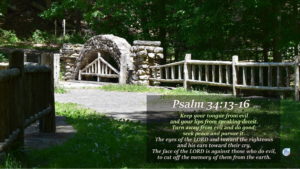 The Holy Bible, English Standard Version Copyright © 2001 by Crossway Bibles, a publishing ministry of Good News Publishers.
Music: http://www.bensound.com
Podcast: Play in new window | Download
Subscribe: Apple Podcasts | Android | RSS